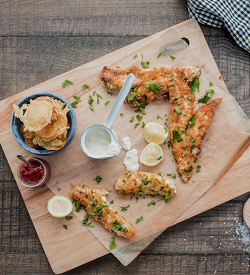 Don't wait till Friday to enjoy this easy fish dish – bursting with flavour, thanks to a duo of egmont and parmesan cheeses and fresh parsley.
Ingredients
1 cup fresh breadcrumbs
1/4 cup Mainland Parmesan cheese, grated 
1/2 cup Mainland Egmont cheese, grated 
1/4 cup fresh parsley, chopped finely
1 egg
1/4 cup flour
4 fillets fresh white fish
Sea salt and freshly ground pepper to taste
Olive oil for frying
Method
Combine breadcrumbs, parmesan, Mainland Egmont cheese and parsley in a shallow bowl. Season with salt and pepper.
Lightly beat the eggs.
Spread the flour in an even layer in a shallow bowl.
Dust fish fillets with flour then dip in the egg mixture followed by the breadcrumbs, pressing down firmly to coat well.
Heat one centimetre olive oil in your frying pan and cook the fish in batches for four to five minutes on each side.