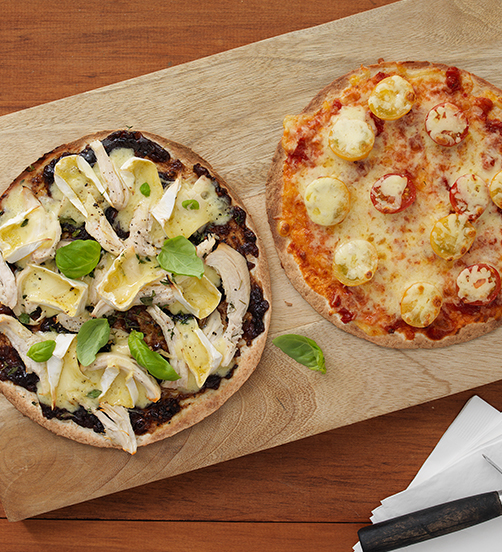 Tortillas or wraps make great crispy pizza bases for a super easy family meal, snack or even a quick entertaining idea.
Ingredients
Packet of tortillas
Your favourite Mainland Cheese
Your favourite pizza toppings
Your favourite pizza base sauce
1 Tbsp sugar
Olive oil
Barkers Chunky Salsa Tomato & Capsicum or Barkers Onion Marmalade
Method
Heat your oven to 200C.
Put tortilla/ wrap on a baking tray and spread with Barkers chutney or sauce or a pizza sauce, add toppings of your choice and top with Mainland cheese such as grated mozzarella or camembert or brie slices. 
Season with salt and pepper to taste, finish with a light drizzle or spray of olive oil
Bake for seven to eight minutes until bubbling, golden and crispy.
Try this kids version
Spread the base with Barkers Tomato & Capsicum chunky salsa then top with halves of cherry tomatoes and sprinkle with grated mozzarella.
Try this adults version
Spread the base with Barkers Onion Marmalade, top with shredded cooked chicken and camembert or brie slices and scatter with thyme or basil.
YOU MIGHT LIKE THESE RECIPES